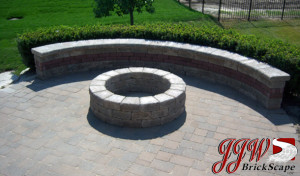 A stone fire pit makes a wonderful focal point for backyard gatherings. Many local codes within Macomb and Oakland County require that the fire pit area be at least 20 feet from the house. This should include the surrounding circular area that can be outfitted with chairs, benches, and/or brick seating walls. Stone fire pits can be dressed with several different materials such as retaining wall blocks, flagstone, garden wall stones, and brick pavers to create a firebreak between the stone fire pit and surrounding structures. For safety concerns, fire pits should only be installed on ground level. When constructing a fire pit out of any stone material, be sure to set the stones on a solid foundation such as compacted gravel or a cement footing. It is recommended to prepare your seating area at the same time as your fire pit to ensure both areas are set at the same level.
Macomb Township MI Brick Fire Pit and Patio
Most cities such as Rochester Hills, Shelby Township, Macomb, Oakland Township, and Sterling Heights Michigan have regulations for the maximum size of a stone fire pit. It is recommended to check the city codes in which you live to avoid any violation issues. Some cities may also require a permit each time you use your stone fire pit, or at least notify your local fire department so responders aren't dispatched unnecessarily.
Macomb Township MI Brick Fire Pit
Here are a few tips to consider once you are ready to build a stone fire pit in Macomb Township :
Make sure there are no bans or restrictions in effect.
Evaluate wind conditions. Do not build a stone fire pit where winds are heavy, this can be very dangerous, and uncomfortable when gathering around.
Keep a shovel, sand and a supply of water nearby. A fire extinguisher is also recommended.
Extinguish the fire with water nearby and do not leave unattended until it is cold to a touch.
Macomb Township • Harrison Township • Clinton Township • Shelby Township