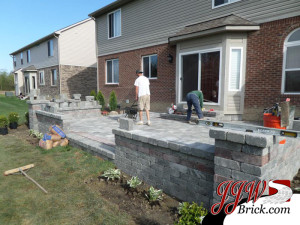 There are many things to consider when you are thinking about installing a brick paver patio or driveway pavers in Michigan. First you should decide whether this is something you want to try to do yourself or whether you want to hire a professional to install it for you. Paver patio installation can be done as a DIY project if you follow the directions carefully. There are also many professional brick paver installation companies that can be hired for the work.
Plan Your Paver Patio Installation in Shelby TownshipMI
The first step you need to take is to plan out what your paver patio or driveway will look like. You should try and find a pattern and color that compliment your home. Brick pavers come in many different styles and colors to make this process easier. When you ensure that the brick pavers you choose compliment your home you are adding value to your home.
Paver Patio Installation Shelby TownshipMI
If this is the first time you have worked with brick pavers for a patio or driveway you may want to stay with a simple plan. If you really want a more elaborate style you may want to consider having a professional do the brick pavers installation for you. You may be able to find a brick paver kit that comes with pre-cut pavers; this could save you some time and effort.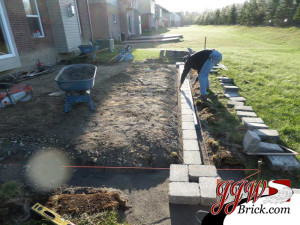 Once you have decided where you want your brick paver patio or driveway pavers to be located, you need to contact someone to locate all the lines that run underground before you begin to dig. In Michigan, Gas, water, and electric lines can be dangerous if you cut through them while digging out the area. Once you have got approval for the location you have chosen you need to dig out the area you are going to be paving. If you live in an area where there are freeze and thaw temperatures you need to dig down at least 8 to 10 inches to prevent your patio or driveway from buckling due to the frost in the ground during winter months.
Paver Patio Installation Shelby TownshipGuidelines
Then you need to lay down from 6 to 8 inches of crushed stone foundation. You will need to lay the crushed stone in layers and tamp them down. Generally about 3 inches of stone per layer so that you get a good solid foundation. You will need a slight grade to your brick paver patio or driveway to ensure that water runs off it. Make sure the grade leads away from your home. Once you have levelled the area layout your pavers and border if desired, then secure with paver edging to prevent movement of the outside pavers. Sweep a polymeric sand compound into all the cracks in your brick paver patio or driveway and tamp one more time. Be sure to use a pad on the tamper for this last step to avoid damaging your pavers. Make sure that there is no sand left on your pavers and wet down your brick pavers with water to activate the sand compound.
Macomb Township • Harrison Township • Shelby Township • Clinton Township